Jack The Giant
Jacob "Jack Earle the Texas Giant" Erlich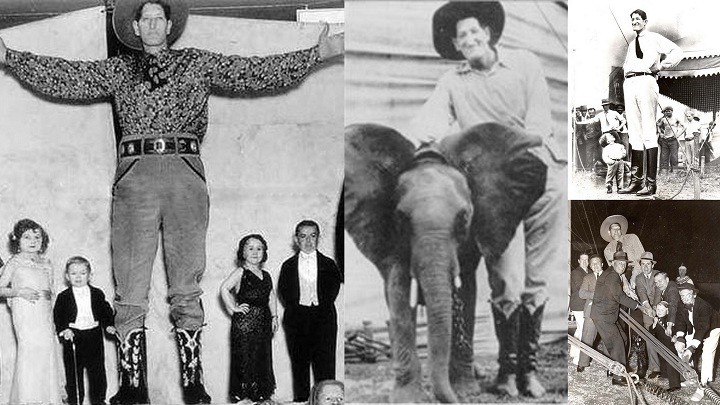 Jacob Rheuben Ehrlich was born in Denver in 1906 to German Jewish immigrants and raised in El Paso, Texas. Average-sized as a boy, Jacob fell from a truck at the age of 14 and suffered a head injury, which doctors believed aggravated a tumor on his pituitary gland. He went blind for four months following the injury and then began growing uncontrollably, ultimately reaching 7'4″ (though he claimed to be 8'6″). Determined to live a normal life despite his size, however, Jacob graduated from the University of Texas at El Paso (UTEP), the tallest person ever to graduate from any University of Texas school.
After he graduated from college, Jacob, using the name Jack (or Jake) Earle, made his first stage appearance in 1924, when he wrote and starred in a version of Jack and the Beanstalk. He also portrayed the father in a stage adaptation of Hansel and Gretl. When the Ringling Bros., Barnum & Bailey Circus came to El Paso, some of Earle's friends challenged him to go see just how tall their giant was. Earle, not surprisingly, was taller, and was hired on the spot. In the circus, one of his jobs was training the show's pygmy African elephants Buli and Nuba. He sold thousands of his "lucky" giant's rings for a quarter apiece; for years after he left the circus, when he met someone who still carried one of the rings, he would offer to buy it back if it hadn't brought the person good luck.
Earle went on a tour of Australia in 1940 with Ringling Bros. When he returned, he found that he had grown disenchanted with the life of a circus freak, and was quite fed up with being asked, "How's the weather up there?" A friend of his, an employee of the California-based Roma Wine Company, persuaded Earle to take a three-month promotional tour with the company. Earle enjoyed the job so much that he decided to stay. The "world's largest traveling salesman", outfitted in a customized Pontiac, made a lasting impression on every customer by handing out nine-inch-long business cards. During World War II, turned down by the Armed Forces because of his height, Earle traveled the country lecturing on the importance of the American wine industry during times of hardship in Europe.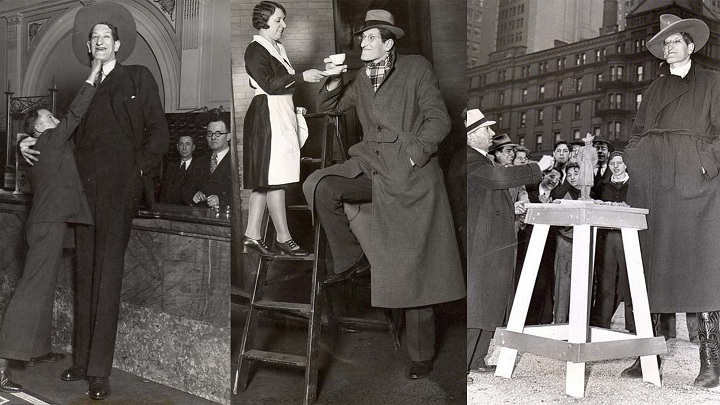 A quiet and intellectual man, Earle enjoyed sculpting and painting landscapes and still-lifes and even earned himself a gallery exhibition in New York City in 1936. Circus manager John Ringling North, Earle said, had been so impressed with Earle's clay bust of "Clicko the Bushman" (Franz Taaibosch, a mentally handicapped South African man) that he paid to send his giant to art school. Earle was also a talented photographer, poet and playwright, and an enthusiastic fisherman and golfer.
Earle retired to an El Paso ranch in 1951, where he spent his spare time visiting children's homes and entertaining the children with stories of magical giants. He died on July 18, 1952, in an El Paso hospital after six weeks' illness.
Jacob Erlich was born in Denver Colorado in 1906 as Jacob Erlich weighing only four pounds.When he was 10 years old, he was over six feet tall. The family moved to El paso, texas and as he grew taller he would avoid people by walking down the alleys on the way to school. At 13 he was over 7' 1  and around the age of 17 had grown to eight feet six inches tall. Jacob went with his dad to Los Angeles. While in L.A he met  Century Comedies Jerry Ash and Zion Meyers and was offered a job in the movies because of the stir he made in Los Angeles. Jacob took the screen name Jack Earle, and appeared in many movies including Hansel and Gretel in 1923 and Jack & the Beanstalk in 1924. He appeared in 48 movies with stars of the day including Baby Peggy.
Jack's movie career ended disastrously during his forty-ninth picture when he fell from a scaffolding attached to one of the studio's so-called comedy cars. He crashed fourteen feet to the ground and was simultaneously beaned by a timber that had broken loose. He woke up in the hospital with a cracked nose and blurred eyesight, and within three days he was totally blind. As his doctor examined him he found a pituitary tumor. The tumor had pushed up against his optic nerve during the fall. For the next four months Jack underwent X-ray therapy. His eyesight returned and it was thought the treatment may have stopped his growth.
Ringling Brothers and Barnum Bailey Circus passed through El Paso, at the time they had a man working for them who was billed as the worlds tallest man, at seven feet five inches tall Jim Tarver was still thirteen inches shorter then Jack the Giant. The circus offered him a one year contact which turned into fourteen years.
He speaks a little disdainfully of what was euphemistically called his "show"; the immobile hours on the bare stage, the thoughtless youngsters' who banged his shins to prove that he was not on stilts, the staccato of embarrassing or foolish questions, the ubiquitous drunks looking for a fight. He soon lost count of the number of times he had one of the midgets sit on his palm to demonstrate the thirteen- inch span of his fingers"
Jack also did vaudeville in the Chicago area and elsewhere.
GOLF
Fond of golf. Enrolled as a golf student in a Chicago golf school. Jack had special extra-long set of clubs made for him by the Chicago Golf Company in 1924. The golf club heads were normal size.
The clubs were contributed to the USGA museum through Lee Trevino by Jack's brother, Myer Erlich, in 1972. Myer was an avid golfer and knew Lee Trevino through their connection to El Paso.
Jack's clubs were probably the longest set ever made to that time, and may still the second or third largest set behind Robert Danziger's.
Jack Earle's club lengths (2)
Brassie 50" shaft, metal
[Unspecified name] 49" shaft, metal
Mid-Iron 42.5" shaft, hickory
Mashie 40" shaft, hickory
Niblick 39" shaft, hickory
Putter 37.5" shaft, hickory
Jack was a good friend of Roy Drachman who was Tucson City Golf Champion and was involved in bringing the Pro Leo Diegel to Tucson, and in helping develop the first made-for-television golf match Leo Diegel created the Tucson Open, and was reported to give Walter Hagen one-a-side.
There's a great golf gamesmanship story where Hagen, posing as Diegel, called a priest and told him he was despondent and going to commit suicide. Diegel was a devout Catholic. The Priest went to Diegel's house and stayed with him all night despite Diegel's protests. Diegel was so exhausted he lost the next day's match to Hagen.
Roy Drachman went to school with Jack's brother Ben. Roy says Jack enjoyed surprising people with his great height.
Used as an exhibit/witness in a libel suit.
Deputy Sheriff from El Paso, Texas.
Trained African Pygmy Elephants.
Sold thousands of rings made of lead that said "Jack Earle Giant" on them. My grandfather may have provided the lead. He'd buy back any that did not bring luck to the purchaser.
"Liked midgets best, and counted many as close friends." "Most of all he liked the Dancing Dolls, the family of four little people whom we met in an earlier chapter. A familiar sight in the circus was the giant walking between the tents, his big voice booming in reply to a high-pitched remark from little Harry Doll or some other midget who was perched on his shoulder. In Jack's first season with the circus, Harry, in particular, was very helpful to him. On Jack's first day in the sideshow he felt ill at ease when the midget Harry Doll pointed out to him that there were more "freaks" in the audience than there were on the sideshow platform."
Harry, Daisy, Tiny and Grace Doll,- a famous family of midgets, subsequently became Jack's most intimate friends, and he still visits them every winter in their home at Sarasota, Florida."
Jack also worked with and is pictured with with Major Mite (Clarence Chesterfield) who was 2'2" tall during his tenure with Ringling Brothers.
"On the road he was wedged into Ringling's famous Car 96 with the rest of the freaks."
"He suffered from claustrophobia and other terrifying complexes, and he had only scorn for the people who stared at his great frame. "There were times," he says in painful reminiscence, "when I wished I had never been born. I hated the world.""
Described as most talented of a long line of Ringling Brothers Circus giants.
Weighed 385 -pounds.
Jack stayed with the circus until the late thirties early forties, and traveled with many circuses. He left the Ringling Brothers circus at some point and started his own sideshow which he took to Australia and New Zealand.
During World War II was classified 1-A by his Draft Board but was rejected by the army when he reported for duty in October 1943. He reported for duty with Charles Amasalian who was 4 feet 11 inches who was also rejected by the army despite being classified 1-A.
Painting and Sculpture: "Professional caliber painter" of still-lifes and delicate landscapes.
Delphic Studios in New York City staged an exhibition of his work.
Two versions of how Jack entered art school: "The interest in the art began when he did a head in clay of an Australian bushman exhibited by the circus. John Ringling saw the work, sensed the fact that his giant was talented, and sent him to an art school to study sculpture. There he became interested in the field of painting and studied with the Mexican painter Emilio Cahero of El Paso." Jake's nephew says that Jake was a extraordinary artist and that he was with some of the sculptors who were making objects for the Ringling circus – animals and such – and that he did some things with clay that got their notice and they – the circus artists – arranged for him to get a scholarship to art school.
Worked in watercolors and oils, watercolors only after becoming traveling salesman.
Sculpted in clay and other mediums.
Jack leaves the circus and sideshow for good after 14 years. He moves back to California.
After Jack left the circus he represented the Treasure Island World Fair.
Sometime later Jack became a traveling salesman for the Roma Wine Company and worked his way up to public relations.
There are two Roma Wineries, named as such in different contexts. The first was founded in 1889-90 in Sonoma by the Scatena brothers who initially called it the Santa Lucia Winery before it was named the Roma Winery. It was sold in the 1920's to the Domitilli and Massoni families, who sold it in 1944 to the Alta Vineyards Company. Finally the Roma Winery ended up in the hands of the Seghesio wine family who purchased it in 1949 to add to their current winery holdings. Another Roma Winery was founded after Prohibition by John Battista and Lorenzo Cella, who expanded their operation to become the single biggest producer of California wines in the days following Repeal. This winery was later taken over by the Cribari family, and the Cribari label was bought by the Wine Growers Guild in 1970, which later became the Guild Wineries."
During Prohibition the Cella brothers shipped grapes and produced cooking sherry, wine sauce, concentrates, and sacramental wines. Cella Brothers advertised the the Roma Wine Company as the largest winery in the world. After selling to Schenley in 1942, by the 1950's Roma was the best selling wine in the United States. Roma is still a wine brand owned by Canandaigua. [note – Roma is not listed on their web site. Other brands include Manischewitz, Almaden, Inglenook, Cribari and Taylor. Cribari is the name Roma was changed to at least in part.]
Part of his route included Humboldt in far northern California. He stayed at the Humboldt Inn where they made him a special bed. He spoke to service clubs in the Humboldt area.
Spent up to 11 months per year on the road as traveling salesman.
"Jack travels constantly through forty six states, crisscrossing the land three or four times a year."
"Learning to overcome the hardships of traveling – such as having to buy my socks a gross at a time and sleeping doubled up in train berths wasn't the chief difficulty. It was psychological – getting people to realize that, despite my size, I was just a normal person trying to earn a normal living in a normal manner."
Other Special Issues of Extreme Height: "He wanted to drive a car like other men, for in-stance, but no ordinary car would hold him. He finally had to remove the front seat of a large five -passenger coupe, add nineteen inches to the steering column, and drive it from the rear seat. Even then he discovered that the steering wheel blocked his view, so he sawed off the upper half."
Visiting the homes of newly found friends, Jack disconcerted housewives by noticing dust on high shelves and moldings that others could not see. "I used to dust the moldings at home for my mother," he says with a grin, "and I just couldn't resist poking my fingers into dusty places."
"He found his huge fingers would not fit the holes on a dial phone, so he has to use a pencil instead."
"He wanted to ride the subway-an ambition still considered balmy by some of his New York friends- but gave it up on the first try when his skull connected with the blades of a ceiling fan. He has to avoid night clubs because they are badly lighted and he always crashes into things-such as unused chandeliers-that are suspended from the ceiling."
"The first time he was given a wrist watch by his employers, he found that the strap was three inches short. He couldn't wear it until his brother, an El Paso jeweler, designed a special gold clasp to bridge the gap."
"Jack still takes a giant's view of guest towels in the average house because they're never large enough to dry fingers that have the same diameter as a fifty cent piece." "Jack can't ride a Pullman car without in-structing goggle-eyed porters how to combine two drawing-room berths into one". "In most hotel rooms he has to have two beds, placed end to end, and made up with an intricate overlapping of sheets."
"There are also merchants in strategic locations from coast to coast who can handle the unique emergencies that arise in his daily life. There is a Hollywood tailor, for instance, who makes a new suit for Jack four times a year, an undertaking that would intimidate the stoutest haberdashering heart. Jack's suits, which cost $185 [in 1950] each and require elaborate blueprints so that pockets, cuffs, lapels and other parts are in proper proportion, use up eight yards of cloth and cannot be pressed on ordinary machines. His shell-rimmed glasses, shirts, hats and gloves are all made to order. He has to buy socks a gross at a time because the mill won't tool up the special machinery for less, and his handmade shoes – "I really get a bargain on those," he laughs-are twenty-five dollars' a pair, a price on which the manufacturer takes a sizable loss.
Wore a four-and-a-half-carat diamond ring.
Jack had "no permanent home, because the average house might have to be completely remodeled to fit his needs."
Jack lived in hotels where the management was familiar with and willing to assist him with his special problems.
"Jack was a carefree driver until he had an accident one winter in Colorado. The car overturned and he was trapped inside. His back was wrenched so severely that he had to go to the Mayo Clinic for treatment."
"Jack used to bowl along the highways at a dizzy clip, but he has slowed down since the car skidded on an icy Colorado road several years ago and turned over. . 'The road crew that found his Herculean body stuffed under the dashboard tele-phoned for a tow car and understand-ably reported that two men had been hurt. Jack never really recovered from this violent impact, and has already visited the Mayo Clinic four times for treatments on his wrenched back. "I suppose it was quite an event when I showed up in Rochester," he admits modestly. "They had to put two dia-thermy tables together and use two ex-amination booths. They had a staff meeting for me, and a seminar with all the endocrinologists. If nothing else, the world will remember me as the greatest guinea pig the Mayos ever had."
One of the ablest merchandising specialists in the wine business.
During the period Jack Earle was with the Roma Winery it went from being a small provider of bulk wine to the largest wine seller in the country.
"To promote the biggest winery in the world Roma hired the biggest man in the world, Jack Earle."
"Constantly visited crippled children's wards and hospitals in the San Francisco area where he told original stories he created about boys and girls who had giants for friends."
Broadcast original fairy tales over a west coast radio system.
Wrote a whimsical children's book.
Very artistically talented and worked in a variety of mediums including painting, sculpture, photography, poetry, storytelling, and played the saxophone, piano and sang.
Jack was published in a book called The Long Shadows.
"He has taken prize-winning photographs, usually of strong but sad human faces."
Fixture in San Francisco which was the closest place to home he had.
"Here, [in San Francisco] once a year, he puts on white whiskers and a red coat to act as a giant Santa Claus in orphanages or hospitals for children. Dogs and children have a curious warm affinity for him, and hundreds of youngsters in the San Francisco area have learned to play the "Jack Earle story game," a pantomime in which his windmill arms and hands magically turn into enchanting birds, fish, trees, river and hills. It is in San Francisco, too, that he has the only chair in the United States large enough to hold him comfortably. It was made for him by his company, and in it he has spent many a spare hour creating advertising ideas or painting water colors and oils, which he always gives away. On weekends he visits Harry Serlis, the com-pany vice-president, or plays chess with Ken Pearson, his oldest friend and advertising manager for the firm."
Roma Wine Company had headquarters in San Francisco.
Jack spent about two months a year in San Francisco.
"While there [in San Francisco] he occupies a huge room in the Palace Hotel and sleeps in a nine-by-six-foot bed which has what must be the largest sheets in the world. Jack's few personal possessions are also stored there-a shotgun with a stock as big as a canoe paddle, special coat hangers big enough for two average suits, fishing rods only slightly smaller than a flagpole, extra custom-made belts and suspenders and other odds and ends, mostly odds. Jack also garages his trick car in San Francisco, and uses it on his Pacific Coast routes. The machine was altered for him by a Bakersfield mechanic and is probably the only expensive car in San Francisco without theft insurance. No one else, with the possible exception of another giant, can drive it."
Only met one person taller than him in his whole life – Robert Wadlow of Alton, Illionis who stood 8 feet 9 and one-half inches. "Wadlow was then almost nine feet tall, and Jack was so flabbergasted to find himself looking up instead of down that his mind went blank and the hateful question popped out automatically. "Hey, Bob," he blurted, "how's the weather up there?" Wadlow took it gracefully, and Jack says it taught him a lesson. "People still ask me about the weather up here," he says, "but I don't really mind it any more. I can even shoot back an answer: hot air at the summit, somewhat cooler in the foothills.""
Jack was also reported to be an excellent skeet shooter, skilled chess player, a gamefish angler of note in Florida, and an avid reader.
22-size shoes and 18-size gloves.
On November 4, 1950 the Saturday Evening Post ran an article titled Private Life of a Giant.
"No one ever makes him wait for a seat in a restaurant, for example, and elsewhere crowds open up like the Red Sea when he is coming through. Businessmen who meet Jack never forget him or his name, and when he conducts a sales meeting there are no chair squirmers or wandering minds. "No secretary ever tells me the boss is in conference," he chuckles."
"The average man," he says with wry humor, "wants to be different. I, on the other hand, have spent the past ten years trying to be an average man."
"He is drawn restlessly to the seashore, and most of his paintings have surf and sand."
Jack's nephew Andrew does not believe Jake ever had a great love other than his family, did not marry and had no children.
He says himself, "There are thoughts I had as a boy that I still haven't escaped. I remember the grown people laughing at me. But I don't ex-pect the world to be made over just for me. If I had a chance now to become a man of average size, I don't think I'd take it. And when I feel low I can go to my room and lock the door, and I can read or paint or write.""
Jack died of kidney failure on July 18, 1952 at the Hotel Dieu Hospital and is buried in Texas. He was 46 years old.
Jacob Erlich was very quietly spoken, mild mannered, warm, supportive kind and gentle. Sensitive and artistic, a gentle giant, "his large eyes peered shyly at you through a huge pair of spectacles." An exceptional athlete, remarkably intelligent, a loving family person, an extraordinary human being.
A poem by Jack Earle:
Shadowy mists
Swirl and steal
Dawn the cornices
Of my mind,
Quietly at first
Then faster and faster,
Into the deep hiding places
Of my terror
They penetrate,
My steps quicken . . .
And I flee in fear
From the pursuing shadows.
Below is some correspondence announcing the rule change that allows disabled golfers to use special long clubs if warranted by their disability:
Dear Friends,
I am pleased and proud to forward to you this email from the USGA. As you may remember the USGA had made all clubs longer than 48", other than putters, illegal for all golfers. A few of us who have used longer clubs for medical reasons asked them to reconsider. And even though there are very, very few of us who benefit from this rule change, the USGA (and presumably the R&A) went out of their way to accommodate us. This the best of what golf represents.
Bob Danziger
Begin forwarded message:
From: Bob Danziger
Date: July 11, 2007 1:12:26 PM PDT
To: "Carter Rich" <JCRich@USGA.org>
Subject: Re: Question re long clubs
Dear Mr. Rich:
I can't tell you how pleased and excited I am by your email and the USGA's action. By coincidence I was on the phone with a gentleman who runs a golf tournament for disabled golfers when I received the email, and he was also very excited. Our most fundamental excitement comes from the USGA continuing to shepherd the rules of golf so that people of all sorts can go out and play this wonderful game as long as they're not trying to gain an undue advantage. My heartiest congratulations and deepest thanks to you and all involved.
Yours truly;
Bob Danziger
On Jul 11, 2007, at 9:01 AM, Carter Rich wrote:
Dear Mr. Danziger,
When we last communicated, I think that I mentioned that we were fairly close to a decision regarding requests of your nature. I am happy to tell you that we have made a medical accommodation for club length in specific circumstances.
Based on the information provided regarding your medical condition, it is possible that you may be permitted to use clubs exceeding the 48" length limitation. However, you must request permission from the local committee (i.e., the Competition Committee in charge of an event, the Rules of Golf Committee of your course, etc.), which should involve providing them with medical documentation of your condition, if necessary, such as a letter from your treating physician.
If the Committee believes that you have demonstrated a medical need for the exception and that you do not gain an undue advantage over other golfers as a result of using the exception, the Committee may authorize you to use clubs longer than 48". However, please note that, in applying this exception, it is required that the shortest club carried by the player is no more than 10" shorter than his longest club.
Should you have any questions or concerns regarding the above, please feel free to contact me.
Regards,
J. Carter Rich
Manager, Equipment Standards
United States Golf Association