There is only one portable PTC carousel you can ride – Another is just a restoration away from returning home to Florida: The rare Philadelphia Toboggan Company Portable Carnival Carousels.
By Bill Hall
Reprinted from the Sept. 2013 CN&T, courtesy of Carnival magazine
Through the decades, the carousel has maintained ins popularity and is the staple of most of America's midways. Carousels in Europe and Asia date back to the early 1600s. Many started out as hand cranked devices consisting of a few seats for patrons and resembling early swing rides.
By the 1700s, horses suspended from sweeps appeared on carousels in France and England. The first carousels as we know them in America were developed in England during the mid 1800s. They were called Roundabouts and had horses known as gallopers that had an up and down motion created by an overhead cranking devices. The machines were powered by steam engines. By the latex 1800s and early 1900s, decorative carved rounding boards were added to the roundabouts along with lighting and band organs for music.
Carousels first appeared in America in 1845. The machines were generally crude devices turned with a horse and set up at beach resorts around New York City and New Jersey's shoreline. In 1860, a German immigrant named Gustav Dentzel arrived in the U.S. and opened a carousel works in Philadelphia. He was America's pioneer carousel maker and he advertised his business as "G.A. Dentzel, Steam and Horsepower Carousel Builder – 1867".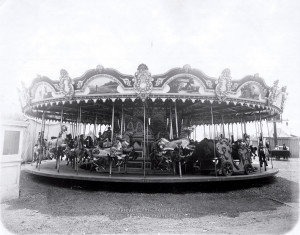 EARLY MANUFACTURERS
The first Dentzel Co. Carousel however, did not leave the factory until 1870. It was erected on Smith's Island on the Delaware River near Philadelphia. The ride was a huge success and Dentzel decided to take his creation on tour to other cities.
Observing Dentzel's success, other carousel builders soon entered the ride building business. Charles Dare founded the New York Carousel Manufacturing Co. in Brookly, NY, in 1875 and Charles Looff opened a factory there in 1880. A prolific string of carousel companies would come from the first joining of James Armitage and Allan Herschell in 1893 with a Carousel building business out of North Tonawanda, NY. And in 1894, Charles Wallace Parker would form a company building carousels and other amusement devices in Abilene, Kansas.
PTC FOUNDED IN 1903
In 1903, Henry B. Auchy established the Philadelphia Toboggan Company. Then, in 1907, legendary amusement builder and innovator, William F. Mangels, patent the overhead jumping mechanism. This engineering change has not really been improved upon today and would open the real "Golden Age" of American carousels and their carvings. Between 1904 and 1907, the Philadelphia Toboggan Company produced only three-row, stationary carousels. In mid-1907, the first four-row carousel was produced. Two five-row carousels left the factory in 1908 and 1911. All of these early machines were grand carousels built for one building, one park.
1913 PTC #26 FIRST PORTABLE
They built their first portable carousel, for transport by traveling carnivals, in 1913. This was PTC #26. It was sold to Joe Krouse for the Zeidman and Polly Shows. The ride measured 42-feet in diameter and had 42 hand-carved horses plus two chariots. It loaded into three wagons. The center wagon – the "Gun Wagon" – was loaded with the tilted center pole resembling an artillery device while in transit. The second wagon carried the horses and the third the sweeps, canvas and platforms. PTC #26 was later sold to the Greater Sheesley Shows. North American Exposition acquired it from Sheesley and in 1945 it was sold to Cetlin and Wilson Shows. Cetlin and Wilson used the carousel until the show closed in the late 1960s. The ride was then put in storage in a barn on Barney Corey's Florida property and tragically destroyed by fire in 1970. The only thing remaining from the first portable PTC Co. Carousel ever built is the gun wagon, now in the author's collection.
PTC #27 & PTC #28
The second portable PTC Carousel, built in 1913, was #27. It was sold to Abner Kline for Walt Shows. According to Abner's wife, the ride was destroyed by fire and had a very short life. The last portable carousel, also built in 1913, was PTC #28. It was sold to Frank Herd for the Beckman and Gerety Shows. When Beckman and Gerety closed in 1942, Strates Shows bought the ride and it appeared on the Strates' midway for over 40 years before it was sold at a Norton auction in 2009. The carousel was purchased by Brass Ring Entertainment of California where the machine is in storage. The rare carousel is available to be refurbished for re-use at a permanent facility.
PTC #32 – "WORLD OF MIRTH"
In 1914, the Philadelphia Toboggan Co. produced PTC #32. It was sold to Ralph Smith of New York City. Ralph was a partner with Max Linderman in operations that later became the World of Mirth Shows. He served as secretary and treasurer of the World of Mirth until his retirement in 1956. The ride was rebuilt in 1938; however, a fire on the train destroyed most of the scenery two years later. In 1955, the World of Mirth took PTC #32 along with some other rides to the Dominican Republic for "The World's Fair for Peace and Progress". Nearing the end of the event date, the carousel and a few of the other rides were sold to the government. Perhaps for the sake of longevity it was a good thing, because PTC #32 still exists and is operating in the Dominican Republic – and is one of only three PTC Co. portable survivors.
PTC #34 ALMOST DORNEY PARK'S CAROUSEL
Joseph C. Ferrari acquired the next portable that PTC built in 1915 for the Rubin and Cherry Shows, PTC #34. Al Wagner purchased it from Rubin and Cherry in 1944 for Cavalcade of Amusements and used it until 1948 when it was sold to Dodson Imperial Shows. In 1950, it exchanged hands again, being acquired by Amusement Corp. of America for a brief four year period before being sold to Royal American Shows. Following a terrible 1984 fire at Dorney Park in Allentown, PA, where the park's carousel was destroyed, Dorney Park management purchased PTC #34 from Royal American Shows and proceeded to restore it. Halfway through the restoration process, Dorney Park decided to sell the ride and consigned it to the Red Baron Auction House in Atlanta. It sold at auction there in 1986.
PTC #37 & PTC #40
Two other PTC portable carousels were built the same year – 1915. PTC #37 was built for the Harry Copping Shows. Its fate is unknown. PTC #40 was sold to the Johnny J. Jones Show. This ride remained on the Jones Show until 1951 when the Strates Shows acquired it in an I.R.S. bankruptcy sale. With two PTC portables in the Strates' ride inventory, parts were interchanged between #28 and #40 in order to keep one of the devices in operation on the midway each season. Eventually, the remainder of PTC #40, including the gun wagon and various parts, were donated to the Circus World Museum in Baraboo, Wisconsin.
The last portable carousel built by the Philadelphia Toboggan Co., according to factory records, was PTC #43 in 1917. This one was originally built for William Glick, but later sold to the Pollack's, and then to World At Home Shows. It survived the 1918 World At Home train wreck and was sold again in 1925 to Goodman Wonder Shows where it operated until 1936. The Western Washington Fair in Puyallup acquired PTC #43 in 1966 and it currently operates four weeks a year in a permanent location on the fairgrounds.
Production of new carousels by the Philadelphia Toboggan Company ended in 1934. The company did, however, continue rebuilding older carousels for customers after that.
By some estimates, fewer than three percent of all the carousels ever produced have survived to be enjoyed by future generations. Fires and neglect have destroyed the majority while natural disasters have taken their toll. Memories of riding these beautifully hand-carved riding devices – catching the brass ring to the sound of blaring band organ music – will live on forever.